Dr. Yoendry Torres, a licensed clinical psychologist and 4th dan black belt in Taekwondo and an USA Taekwondo Associate Coach. Taekwondo Wellness is a merging of two arts, martial arts and psychotherapy. Dr. Torres has been the head coach for Taekwondo Wellness Programs since 2010 initially at Illinois Masonic Medical Center Behavioral health Department during his clinical psychology internship, then at Mount Sinai Hospital Child & Adolescent Department during his post doctorate and now at Intuition Wellness Center. Dr. Torres co-founded Intuition Wellness Center, PLLC in Tucson, AZ in 2013 where he also provides individual and family counseling services.
Dr. Torres earned a doctoral degree in clinical psychology (Psy.D.) with a specialization in family therapy in 2009. Prior to that Dr. Torres earned a Bachelor's of Arts Degree in Psychology with Magna Cum Laude from Florida International University in 2003 and an Associate in Arts Degree with Highest Honors with Distinction from Miami-Dade Community College in 2001.
"I Believe That You Already Have The Answers to Unlock Your Potential."
Dr. Torres martial arts training history dates back to when he was a teenager living in Miami, FL training in an American Taekwondo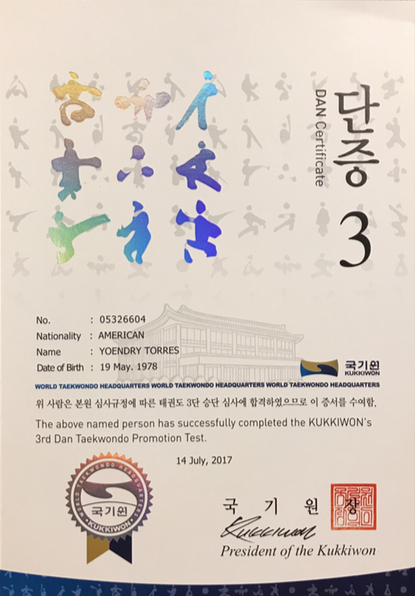 Association (ATA) school where he earn his deputy black belt under Grandmaster Andy Silva. Dr. Torres later trained for a couple of years in Shaolin Kung Fu before having to pause his martial arts training while attending college. Dr. Torres later returned to Taekwondo during his last year (2008-2009) of graduate school in clinical psychology while living in Chicago, IL where he began to consider the idea of merging his interest for martial arts and psychology. Dr. Torres trained under Grandmaster Rodriguez in Chicago, IL until his 3rd Dan before moving to Tucson, AZ in 2013. Upon moving to Tucson, Dr. Torres began training with Grandmaster Jae Kim and earned his 4th Dan before Grandmaster Kim retired. Dr. Torres, currently holds a 4th dan, and is continuing his Taekwondo training with Grandmaster Dong Hoon Kim at Tucson Tae Kwon Do Chung Do Kwan. Dr. Torres also holds his 3rd Dan through Kikkiwon, World Taekwondo Headquarters and competes in USAT sport Poomsae.
Taekwondo Awards & Accomplishments
Arizona State Taekwondo Championships 2019: 2nd Place Male 41-50 Poomsae Division
USA Taekwondo Associate Coach: June 2018
Arizona State Taekwondo Championships 2018: 2nd Place Male 31-40 Poomsae Division
3rd Dan Kukkiwon: July 14, 2017
2nd Dan Kukkiwon: July 14, 2015
1st Dan Kukkiwon: January 5, 2010