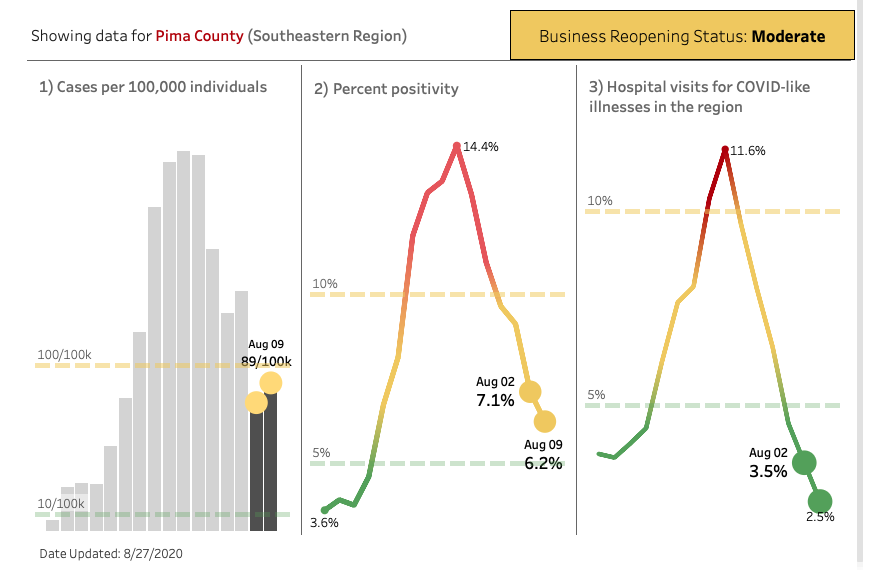 Here is update re COVID19 as of 8-31-2020:
AZ Department of Health Services recently released new guidelines for reopening gyms. Good news, TKD Wellness was already implementing all of AZDHS recommendations even before they posted them. See AZDHS details here. See TKD Wellness COVID19 protocol here.
Best yet, TKD Wellness has now reopened in-person classes. Students must book classes in advance, wear mask and follow other COVID19 protocol precautions including staying home when feeling sick. Note that virtual classes will remain an option for any student wishing to train from home.
Get out of the house!!! Come get fit, learn Taekwondo and feel empowered. Get started today with our FREE class offer!
New AZDHS benchmarks: There are 3 COVID19 stats benchmarks that need to be met in Pima County at least at the moderate level for 2 weeks before reopening. They are: 1) Cases Per 100,000 2) Percent Positivity 3) Hospital Visit for other COVID-like illnesses. Good news is that Pima County is meeting 3 of the 3 benchmarks.
Let's all do our part to keep COVID19 at bay so small business like TKD Wellness can remain open! Thank you for your continued support!
See attached image with benchmarks data/charts. Thanks for your continued support and dedication to Taekwondo and your health!